Korean Actors Who Were Athletes First.
The idea of casting athletes in movies goes back almost to the beginnings of cinema. Johnny Weissmuller who was one of the top competitive swimmers in the 1920's gained even more fame for being one of the early film Tarzans. Esther Williams, another swimmer who had won 3 national level championships by the age of 16, was a famous movie star of her day. And most of us are familiar with Arnold Schwarzenegger, bodybuilding, and Dwayne Johnson, American football and professional wrestling, who created successful movie careers for themselves after their athletic careers wound down, so it should come as no surprise that quite a few Korean actors were quite athletic before they became famous for acting.
Song Joong Ki was a promising short track speed skater during his middle school years (typically older than in US, up to age 16) and represented his home town 3 times at the National Games, as well as winning at regional meets. Unfortunately he suffered an injury during his first year of High School which ended his athletic career. On the up side it allowed him to focus on acting classes and schoolwork. His parents had encouraged the acting classes because of his shyness.  He scored well on his college entrance exam and attended the prestigious Sungkyunkwan University.
He had small acting roles, modeling gigs, and appearances on TV in entertainment shows, before his big break in 2010 in the Kdrama Sungkyunkwan Scandal and by becoming a regular cast member on Running Man, on which he showed his athleticism as well as his intelligence. It was both of these that really drew him to my attention and he has been one of my favorite actors ever since. Other roles followed with him gaining more critical acclaim with each performance.
Then in 2013 he began his mandatory military service, returning to acting in 2015 with the leading role in Descendants of the Sun, playing the leader of a UN peacekeeping unit.. Originally some people worried if he could carry off such a masculine role, but now they can't imagine any other actor in that role.
2017 saw him star in the movie Battleship Island, as well as have a couple of cameo appearances in Man to Man and Sound Of Your Heart.
In October 2017 the Song-Song couple (Song Joong Ki and actress Song Hye Kyo, who co- starred in Descendants Of The Sun) got married. They looked happy for a while and then 20 months later we hear of troubles and then a divorce.
He starred in Arthdal Chronicles (2019) which was a different kind of role for him and the drama received mixed reactions.
From athlete, to variety show cast member, to actor Song Joong Ki has proved himself to be a multitalented celebrity who still seems modest and grounded in the real world. I am looking forward to his next project.
_______________________________________________________________________________________
So Ji Sub trained as a swimmer for 11 years and even won a bronze medal at the Korean National Games. He has said that swimming and hip hop were his interests when he was young and that he had no interest in becoming an actor. Liking hip hop and having an athletic swimmer's body on a six foot frame he decided to try out for a modeling job that might place him near his hip hop idol Kim Sung Jae. He got the job and discovered he could make money by modeling.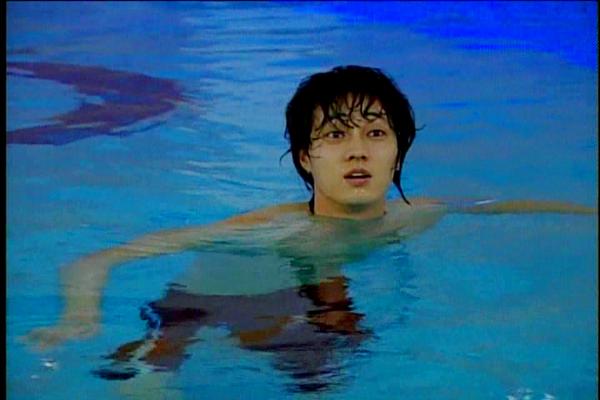 It wasn't long before modeling led to small acting parts and the rest is history. So Ji Sub has acted in multiple movies and Kdramas as well as making appearances on variety shows. His most famous works might be his most recent, Master's Sun, and Oh! My Venus, however he feels that What Happened in Bali was one of his best roles.
In 2018 he starred in the movie Be With You as well as the drama My Secret Terius for which he won 'Daesung' award.
He has continued to exercise and maintain his athletic figure and can be seen regularly as a print model. He also maintains his interest in hip hop and has released multiple albums and singles and has even had a couple of photo essay books published.
Nearing 40 years old he doesn't seem to be aging, instead like a fine wine, he seems to be getting better and better. All that athletic training in his youth definitely paid off.
Both Song Joong Ki and So Ji Sub filmed Battleship Island in 2016 together. Set during the Japanese occupation it looks like a dramatic movie, but with two of my favorite athletic actors starring in it I'll be sure to do so. Set on Hashima Island during a time of forced labor by the Japanese of Koreans it will showcase an aspect of history that the Japanese don't necessarily want brought to light.
On that somewhat somber note I think I'll finish today's post and write part 2 to cover other Korean athletes who became actors.
Have a great day everyone.
You may also enjoy  Is It The Kdrama Actor?   Easy On The Eyes:Korean Models Turned Actors,    and My Favorite Parks. (Actors not green spaces.)
Please do not copy or use without permission and accreditation.
All photo credits to original owners.