The Best Kdramas of 2017? Part 2.
I'm going to assume you've read part 1, and The Best Kdramas So Far This Year, 2017  so I'm going to jump right in with my next 3 choices.
I almost missed out on Chief Kim, also known as Good Manager, which would have been a big mistake. I had watched the first couple of episodes and wasn't immediately hooked, so left it on the back burner for a while and went on to watch other Kdramas. Then I thought I'd give it another try and settled in to binge watch it. So glad I did. It was one of those Kdramas that takes its time to build momentum and to flesh out all the characters so we actually care about them.
Namgung Min stars as Kim Sung Ryong, a small time accountant whose clients include local gangs and neighborhood businesses. He's in it for the money and so helps them 'fix' their books. He's so good at it that even though law enforcement know he's doing it they can't prove it. His plan is to earn enough money so he can leave Korea and move to Scandinavia. When he's 'outed' for skimming money from the local mob boss he heads to Seoul.
Kim interviews at TQ thinking perhaps to continue his ways at a big company.  Seo Yool, played by Lee Joon Ho, an upper manager at TQ Company hires Kim Sung Ryong knowing of his not quite honest background. Seo Yool thinks that Kim will  help him with his own plans, or be a dupe for them, or at least not hinder them.
Nam Sang Mi's character Yoon Ha Kyung rounds out the main players as the ethical office worker who has an impact on both Kim and Seo. She's a strong presence within the office community and it was nice to see such a role written in a popular Kdrama. She is a strong and pivotal character.
The cast is rounded out with a fantastic group of diverse characters, each of whom adds to the overall interest and relatability of the story. I think we all like to think that ordinary people can rise to the occasion and do extraordinary things.
Without giving too much away the drama progresses with 'Chief Kim' beginning to understand friendship, office dynamics, and that you can in fact change things that are wrong. The story has good points about growing up, loyalty, and compassion as well as the evils of greed, corruption, and selfishness. But one of the best things about Chief Kim is the humor that runs through it. Instead of being preachy it is a fun watch, and we care about the characters. There's also a bromance of sorts that slowly grows between two of the main leads which is enjoyable to watch. In fact Namgung Min and Lee Joon Ho won the Best Couple Award at the 2017 KBS Drama Awards.
The series was surprisingly popular in Korea, considering it ran at the same time slot as Saimdang, Light's Diary, with an average viewership of almost 16%. It also received multiple award nominations and won quite a few, with Namgung Min winning Best Actor at the 2017 KBS Drama Awards.
It took  me a few episodes to get hooked, but it ended up being one of my favorite Kdramas of the year. Give it a chance and I bet you'll like it.
—————————————————————————————————————————————–
Queen Of Mystery slipped under the radar for most people. The original story was entered into a screenplay competition and was the one chosen to be made into a drama. It was also aimed for a slightly older audience, but I think that most people would enjoy it if they gave it a chance. Both leads are well respected actors and have appeared in multiple films and TV dramas over the years. The story is interesting and just different enough to not be the same old cop/mystery show.
The main lead Yoo Seol Ok, played by Choi Kang Hee, is a housewife who lives with her husband, his mother, and sister. She tries hard to fit in with her husband's family, and society's expectations, but all she ever wanted to be was a detective. When crime hits her neighborhood she finds it impossible to ignore it.
While working on solving the first crime she gets to know a local policeman Hong Joon Oh acted by Lee Won Geun, who finds it amazing that she's able to see all the clues and work out 'who did it.' He admires her brain and calls her 'teacher'. Yoo lets him take the credit and they get along well. He's likeable, sweet, and somewhat innocent as to how the world really works. He has a kind and gentle heart.
Not so with the rebellious Detective Ha Won Seung, played by actor Kwon Sang Woo. He's all rough and tumble and wants to put the criminals away by any means possible. He, of course, gets in trouble and is sent to the same police station as Hong Joon Oh. He obviously encounters local ajumma Yoo Seoul Ok and looks down on her abilities. He doesn't understand how an 'ajumma' can know anything about crime. She soon becomes indispensable and the trio form an eclectic and formidable crime solving team.
Life is not all roses for the team though, as Ha Wan Seung still rubs the others the wrong way and doesn't really understand Yoo at all. There's no real romance in the drama, but there is attraction and friendship. Trusting others as well as oneself, growing up, and self awareness all play a part in the drama and so this can truly be called a human drama in many ways.
Queen of Mystery did ok with viewers, staying around the 9.5 % mark. The cast received a handful of awards nominations but didn't win. It wasn't a fantastic drama, but it was good enough that they're making a season 2. It held my interest and I enjoyed it, even with the occasional plot hole. The characters meant something to me and I plan to watch season 2.
____________________________________________________________________________________________
Because This Is My First Life was an unexpected pleasure. The premise could have been corny, or sappy, or overly romantic, but it wasn't. It was surprisingly real, with adult ideas and conversations about friendship, marriage, and love. It was also honest, both in dialog and the portrayal of some of the main characters. I didn't necessarily like all of them, but I have met people kinda like them in real life.
Although the main couple Nam Se Hee, played by Lee Min Ki, and Yoon Ji Ho, played by Jung So Min, are the glue for the storyline I liked that the two other couple's lives were also fleshed out. There were three different love stories in the drama, as well as heartbreak, misunderstandings and revenge.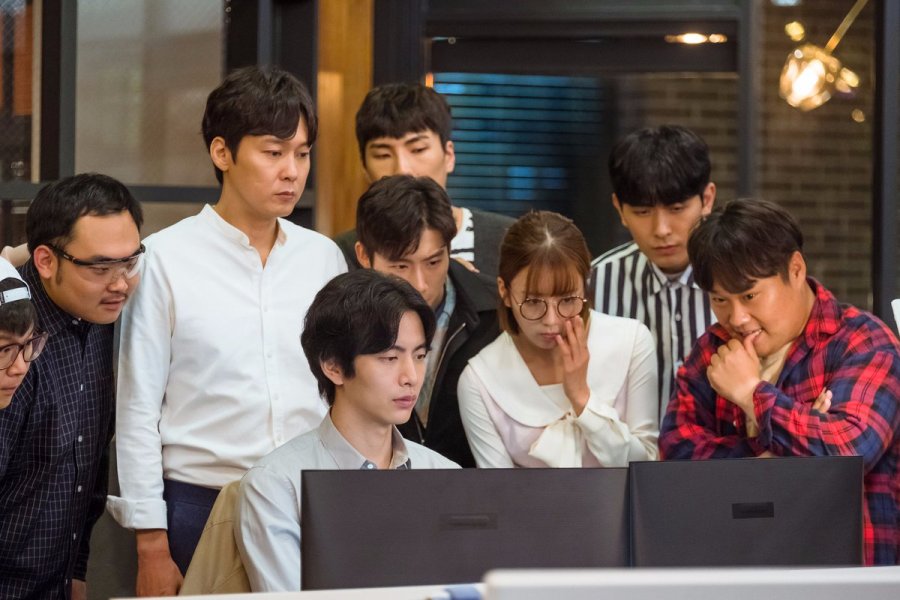 Nam Se Hee is a genius developer so his office puts up with his aloof, cold demeanor and actions. He has strict goals for his life and his future, and wants a non eventful life. His plans included owning a home, which he does, but his income is barely enough to cover the cost of his mortgage. He needs a roommate.
Through some miscommunication Yoon Ji Ho ends up being his roommate for days before Se Hee realizes she's a she and not a he. But she was the best roommate he's ever had so they work out a tenant/landlord agreement. Not to spoil things too much, this is just the beginning of their relationship, and of course things change along the way.
The two other couples Sim Won Seok (Kim Min Suk) + Yang Ho Rang (Kim Ga Eun), and Woo Soo Ji (Esom) + Ma Sang Goo (Park Byung Eun) both have interesting storylines that act as counterpoints to the main couples experiences. In fact my favorite couple were Soo Ji and Sang Goo. There were also strong same sex friendships which held the various strands of the overall story together.
At times the conversations and storyline became quite serious as the characters for the most part were trying to be honest with their feelings, and also what they wanted/expected from their relationships. This is something that is not often discussed in the average Kdrama where falling in love is often the end of the story, not the beginning, or middle part.
It rated quite well considering it was shown on a cable channel, and not free TV. It also seems to have been quite popular with overseas viewers. Again, if you haven't watched it yet I suggest you give it a try.
___________________________________________________________________________________________
I hope I've given you some quality suggestions for 'the best kdramas of 2017' and that you'll enjoy checking them out. I'll do one last post listing some other kdramas from 2017 as well as listing many of the over 120 or so which aired in 2017 for you to browse through. What was your favorite drama from 2017? Please comment below.
Have a great day everyone.
You may also enjoy Is It The Kdrama Actor?    Foodie's Delight: The Street Food Of Korea,  and Korean Actors Who Were Athletes First.
Please do not copy or use without permission and accreditation.
All photo credits to original owners. Chief Kim and Queen Of Mystery KBS. Because This Is My First Life tvN.