KPOP Night Out At SXSW. Part 2.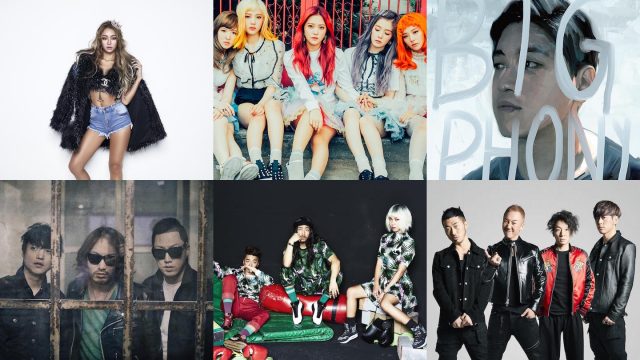 A View from the Front.  
In part one I mentioned that I was at the K-POP Industry Party held before the show, which meant I was inside the venue before the doors opened, and therefore was able to get a center spot 2nd line back from the front for the actual showcase. I stayed here for the first 4 acts before switching with a friend so he got to see his girl groups up close. Part 2 is about the first four groups, Big Phony, No Brain, Galaxy Express, and MFBTY, along with some of their label mates and friends, as seen from the front of the venue. Part 3 will be about trying to watch Hyolyn, and Red Velvet, from towards the back of the venue. Definitely different experiences!
The weather was warm and a little muggy, with only a few drafts of the wind that had plagued us while waiting in line earlier in the day managing to get past the tall brick walls surrounding the stage area. Packed tightly together it was a little uncomfortable, but at least I was close to the stage and had a great view. This changed later as dozens of photographers lined up against the stage, constantly blocking the sight-lines of the people who had paid to watch the show. I had doubts the qualifications of some of them as they were using their phone cameras more than their 'real' cameras. One man kept leaning so far back into us that the young lady in front of me actually had him pressing up against her and totally blocking her view, as well as making her feel uncomfortable.
The opening act was Big Phony (aka Bobby Choy) a super cool guy, who is totally talented on multiple levels, even if he himself is somewhat self deprecating and modest. He's a singer, songwriter, composer, producer, actor and movie screenwriter, in all one of those people that you could dislike if he wasn't such a nice person. Having lived in New York, Seoul, and LA, he brought a more culturally diverse musical background to KPOP Night Out.
It was still daylight when he began his session, joined by members of No Brain and Brad Moore from Busker Busker as his backup musicians. The crowd was happy to see him and may have surprised him somewhat with their enthusiasm, but he's been to Texas before and must know that things are bigger and better here. Big Phony's sound can be described as 'folk' or 'indie' but it was more than that, it was lyrical with a soulful underlay of sadness, yet there was a wistfulness and hope there too. I thoroughly enjoyed his performance and hope more people start listening to his music. You can, of course, find his MV's on Youtube, including Hanging on a Thread, and The Hours, as well as others.
After a short break and a rearrangement of the stage the next act was No Brain, a veteran punk/rock group who have been together for over 20 years. Their experience and talent was immediately obvious, but what was more compelling was their joy in performing. Bulldaegal bounced and stalked the stage with a barely controlled explosive energy, pumping up the crowd to an almost riotous level. Not a huge fan of this style of music I was caught up in the frenzy and was dancing and shouting along with everyone else. Surprisingly I really enjoyed their performance and was impressed with each member of the group as they were masters of their craft. After Bulldaegal with his infectious smile, Hyoonga was perhaps my favorite with his soju song. I missed out on the chance to drink soju with him, maybe another time.
No Brain, long known as the 'godfathers' of Korean punk have performed in Korea, Japan, the US, Canada, and even Russia. If you ever get the chance to go see them I highly recommend you do so. You'd be in for a helluva show.
Galaxy Express described as a "high octane, runaway bullet train" performed next. Formed in 2006  they are a 3 member group known for their dynamic stage presence. With many fans around the world they've appeared on stage in multiple countries including the US, Canada, France, England, Taiwan, and Hong Kong. They won Musician of the Year in 2011 at the Korean Music Awards. They were definitely loud, powerful, and talented, but unfortunately they couldn't keep the crowd momentum going and looking around the audience I could unfortunately see quite a few disengaged people.
The group I was looking forward to the most was initially advertised as a set by Drunken Tiger and one by his wife Yoonmirae, then we heard that Bizzy would be there too and so it would be MFBTY performing as well. It actually turned out that they brought more people from Feel GHood Music with them to include Ann One and Junoflo, along with 2 DJs so it really turned into a party on stage. Drunken Tiger, aka Tiger JK, started everything off pumping up the crowd, getting us to shout out Korean words and phrases with risque meanings. He introduced everyone, told us he was drunk and hoped we weren't disappointed they weren't 'kpop'.  By the shouts, screams, and cheers from the crowd it was obvious everyone was really glad to be there watching them perform. As Junflo tweeted later "SXSW THAT WAS THE CRAZIEST SHOW EVER."
At this time I have to say that I was enjoying the show so much I didn't really take much time to take photos. Sometimes nowadays we concentrate so much on recording something we don't truly experience it, and I was there for the experience.
Most of the time everyone from Feel GHood Music was on the stage at the same time although the performance was divided up roughly into Drunken Tiger being the focus, then Yoonmirae, and then finally MFBTY, although Junoflo, Ann One, and one of the DJs were all given time to show us what they could do. Ann One was unknown to me before the show, but she is definitely someone who I'll watch out for, both as a songwriter as well as a singer. Junoflo is also someone to watch for, particularly as Druken Tiger said he expected him to be the future of Feel GHood Music, and  DJ  Zomanno was really good, adding unexpected humorous elements into his set.
These 3 photos are from http://www.asianjunkie.com/2017/03/19/sxsw-2017-mfbty-and-friends-steal-the-show-at-k-pop-night-out/ who has written probably the most comprehensive review of this part of KPOP Night Out @ SXSW. Worth reading.
Popular as Drunken Tiger was, Yoonmirae was the darling of the night with her amazing performance. I think at times she was surprised at how popular she was. The crowd was totally focused on her and sang and cheered and applauded her in a frenzy of appreciation. Our Texas girl made us proud. But it was probably when the MFBTY songs were sung that the crowd completely lost their minds.
Sweet Dreams is one of my favorite songs so I was thrilled to finally hear it performed live, along with Get it In, and Bang Diggy Bang Bang, although there wasn't a single song that wasn't great. The performance was loud, wild, and crazy, and at the same time heartfelt, and touching. I think they were happy to be here in Texas and I know we were thrilled for them to perform here.
Y'all come back, y'hear.
Have a great day everyone.
You might also enjoy KPOP Night Out @ SXSW Part 1,  Part 3,   Hyuna Charms Her Dallas Fans,  +Hello Bi+ches Tour 2016 + Dallas, and Got 7: Fly In The USA Concert Review.
Photo credits to original owners.  1. Kpop Night Out @SXSW.  3. Big Phony. 4. No Brain.      6. Galaxy Express. 9,10,11, Asian Junkie.  (only 2,5,7,8,12, 13 to me.)